Over time, the Australian government has maintained certain standards that help to ensure the safety and security of occupants of buildings at all times. This means that if your business is based in a building, then you need to have clear strategies for evacuation in case of an emergency. The standards also provide a set of emergency light testing measures that will ensure that the emergency light, as well as, its components are in perfect working condition.
Emergency lighting is essential to the safety of building occupants. It reduces the risk by providing illuminated evacuation paths during situations such as blackouts or electrical failure due to natural or human-made disasters.
What do these standards provide?
These standards (AS2293) provide guidance and assurance for building users as well as on-site visitors. The Australian sets of standards provide an assurance, as well as, a blueprint for the implementation and constant maintenance of emergency lighting in buildings. These standards also provide users with an outline of the installation of an emergency lighting and exit sign lighting system. Businesses are required to comply with these standards to ensure all emergency lights are in perfect working conditions.
Who are those that can ensure that these standards are met?
The simple answer- Experts- If you are a business owner or you manage a facility then you need to seek expert advice. You can ensure the compliance of your fire protection requirements are met and are in working order by using a professional service provider. To find a professional service provider, please contact WBS Technology, or view the list of FPAA (Fire Protection Association Australia) providers of choice here.
When making your choice of what emergency and exit lighting will be, you need to consider the testing process of the product. Testing is a very crucial part of the Australian standard, and there are obvious reasons for this. The lights need to be ready to illuminate at any time because that is what the concept of an emergency entails.
Before a product gets approved, it must pass through a series of tests. These tests are simple procedures that have been clearly stated in the Australian Standard AS2293.
Emergency and exit lights are essential, hence, they require regular inspection, testing and maintenance. The procedures of emergency light testing have been clearly set out in the AS 2293 and failure to comply may lead to varying degrees of penalty. Both maintained, and non-maintained emergency lighting requires testing every six months to ensure that they are in excellent working condition.
The test needs to be conducted by a trained individual who is required to test the lights for a total of 90 minutes, and it requires the expert to simulate a power outage for that period.
All tests are required to be documented to keep records as evidence of compliance. When you hire professionals to test your emergency and exit lighting system, they set a routine maintenance program for you, and they also provide reminders that help you to stay compliant.
Testing Methods and Systems
The Australian market is characterised by various emergency lighting testing systems that tackle a large percentage of the complications that may arise during the testing process. Occupants of buildings, as well as, building managers often complain of disruption during the course of the testing process that takes place twice yearly. This means that the work environment is always affected by a minimum of 90 minutes every six months due to emergency light testing.
Well, it doesn't have to be that way. There are self-testing and network emergency lighting systems that eliminate the disruptions and test switching required with traditional emergency light testing.
Self-Testing Emergency Lighting Systems
Self-testing solutions have been designed to conduct autonomous tests. These tests are performed on a regular basis, and the results are provided via a mobile app or in the form of an indicating LED on the side of the light fitting. With this solution in place, there is no need to turn off any switch or circuit during the test. This solution allows the fire protection service provider to work more efficiently and doesn't require a 90-minute wait time before doing the inspection.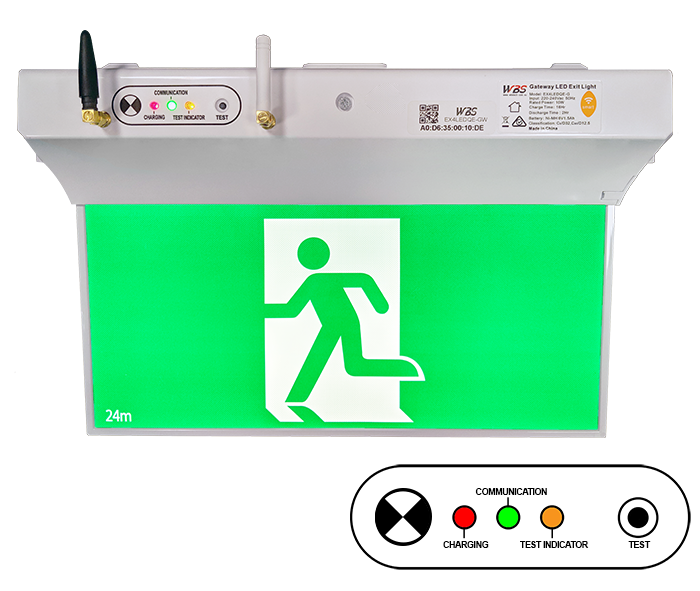 This amber test indicator LED will show the results of the recent automatic test.
The charging LED indicator shows that the light fitting is currently supplied with power and is charging the internal battery.
The green communication LED indicates that the light fitting is currently communicating with the emergency light wireless network.
Network Emergency Lighting Systems
Network solutions comprise of light fittings that are scheduled to perform automatic tests. These tests results are sent to a central location or the cloud for remote or on-site test result gathering. Network solutions similarly don't require service providers to turn off any test switch or circuit. The main benefits of network solutions vs self-test solutions are the ability to provide the facility manager with remote access to the emergency lighting system for result verification.